THE SCIENTIFIC PRINCIPLES OF THE GERM TECHNOLOGY
The GERM technology developed by AGROTECH BELGIUM is based on a perfect combination of all parameters involved in the germination and growth process in a precise, harmonious and synchronous way in an insulated chamber to obtain a very fast germination of the seeds and the growth of the grass in only eight days, with optimal nutritive qualities to reach zootechnical performances.
GERM stands for Germinating Energy Releasing Method.
Best results are obtained with barley seeds.
From seed to grass in only 8 days !
1st day: seeding

2nd-3rd day: first sprouts

7th day: growing grass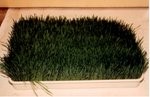 8th and last day
Not a conventional hydroponic technique
This technology is very different from conventional hydroponic techniques that require soluble nutrient liquids, fertilizers, additives or other chemicals to sustain the growth.
NO SOLUBLE NUTRIENT LIQUIDS
NO FERTILIZERS
NO PESTICIDES
NO HORMONES
NO ADDITIVES
NO CHEMICALS
100% NATURAL
OPERATIONAL IN THE MIDDLE OF THE DESERT OR IN THE CORE OF SIBERIA !
Besides its capacity to optimize zootechnical performances, the GERM technology is of vital interest in many applications:
right answer to worldwide calamities such as prolonged droughts, desertification and long snow periods to mention but a few
promotion of intensive farming even in areas where land is scarce or just plain non-productive (e.g. mountainous regions, land prone to erosion, islands …)
countries where land is expensive
the ultimate from the conservationist point of view as it can effectively combat and even reverse deforestation and alleviate the growing problem of land barrenification
effective solution for areas affected by natural disasters or different kinds of pollutions (pastures covered with ashes from volcanic eruptions or becoming radio-active as a result of a nuclear disaster, for instance).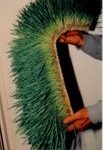 SIMPLE TO USE
The growth chamber is totally insulated and fitted with shelves on which the growing boxes are located. The shelving is divided into 8 sections, each section being at a different stage of growth. The fodder grass reaches 25-30 cm in height within 8 days and can be harvested each day in the section corresponding to the eighth day of growth. It takes 140 Kg of cereal seeds (barley, wheat) per day to obtain one ton of fodder. The system is fully automated. Thus the daily harvesting of the grass and the placing of new seeds in the boxes requires only 30 minutes work per ton of fodder by an unskilled worker.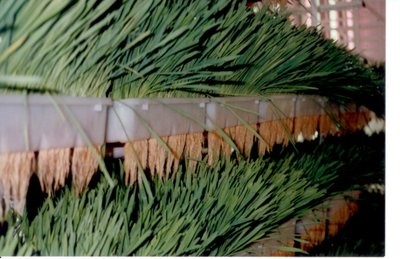 SPECIFICATION OF THE FODDER
Analysis of fresh barley fodder produced by GERM technology:
DRY MATTER ………………………………………. 18%
CRUDE PROTEIN ………………………………… 15% [dm]
CRUDE FIBRE ……………………………………… 15% [dm]
LIPIDS …………………………………………………. 3.5% [dm]
CAROTENE (PRO-VITAMINE A) ………………. 25 mg/kg [dm]
METABOLISABLE ENERGY …………………….. 12.6 MJ/kg [dm]
DIGESTIBILITY ………………………………………. OVER 80% (D value).
At the 8th day, the nutritive quality of the fodder reaches a peak.
There is no waste at the output: the entire grass mass is consumed by animals, including the roots.
The fodder produced is 100% natural.

GERM GRASS VS. PASTURE GRASS
Green fodder produced according to the GERM technology has been thrown on a traditional pasture: animals prefer the GERM fodder, which is much more nutritious, greener, and full of vitamins. The difference of quality clearly appears to the naked eye.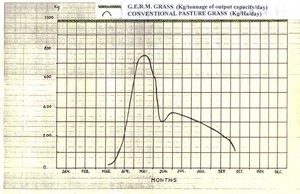 ZOOTECHNICAL PERFORMANCES OF THE GERM FODDER
The daily ration of GERM fodder is essential to reach zootechnical performances, while the role of traditional feeding that completes this fundamental ration is principally to fill the stomach of the animal by giving weight and volume to the feed intake.
Zootechnical performances of the GERM fodder are characterized by:
increase of milk production
acceleration of fattening process
better reproductive performances
better resistance to diseases
better taste of milk and by-products
etc.
Results of the GERM green grass are explained by the particularly high content of vitamins, proteins and carbohydrates.
Feeding milch cows, feeding beef for fattening, feeding goats, feeding sheep, feeding racing-horses, feeding camels and feeding many other animals: all this requires highly nutritive feeding and expertise to optimize performances. Although the concept is simple, optimal results are achieved through the adoption of a combination of technological equipments specially designed by Agrotech Belgium, professional management and strict adherence to system procedures. Therefore, we will be glad to discuss with your zootechnician to determine the most efficient feeding pattern for your farm animals. On the client's request, we can be entrusted with the search and selection of qualified specialists in his country or abroad to run the Fresh Fodder Factory in a professional way. We give also an adequate on-site training for optimal results.